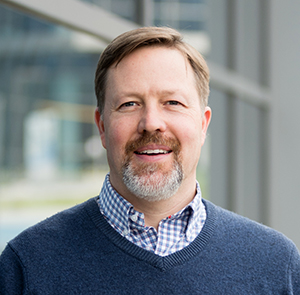 Mark Dresser, PhD '00, credits his mother, a church secretary, and his father, an insurance underwriter, for his empathy and strong work ethic, but a career in science seemed out of reach while he was growing up. "I thought that was only for people from families with backgrounds in science," he said.
---
A budding painter, Dresser thought he would go into fine arts. Then two teachers in high school ignited his zeal for math and chemistry. "They gave me the confidence that I could actually pursue science," he said. "Once the switch was flipped, I just threw my heart, mind, and soul into it."
Graduate school at UCSF, said Dresser, was "transformative," both personally and professionally. He studied with Kathy Giacomini, PhD, professor and co-director of the UCSF-Stanford Center of Excellence in Regulatory Sciences in Innovation, who remains one of his most trusted advisors.
"I learned from her how to think deeply as a scientist, to analyze problems, and design effective experiments. She also taught me to become independent and take responsibility for my work," said Dresser, who co-authored 16 publications while earning his doctorate degree.
"The environment at UCSF was remarkable, collaborative, and at the top of its game in science and critical thinking," Dresser added. "I blossomed at UCSF, and I still feel a very deep connection to the foundational learning I acquired there."
Dresser's calling to science has had far-reaching impact. During his nine-year tenure at Genentech, he helped shepherd dozens of investigational therapeutics into clinical testing and four novel oncology drugs to global approval, offering new hope for treating a number of cancers. His experience in drug development later led him to work at Denali Therapeutics, a South San Francisco biotechnology company investigating new treatments for neurodegenerative diseases, including Alzheimer's, Parkinson's, and ALS.
"This is one of the critical unmet medical challenges of our generation. There is so little out there to treat neurodegenerative diseases," said Dresser, 47, senior vice president and head of development sciences.  
"Two of my relatives lived with Alzheimer's for more than a decade. Seeing how devastating that was for spouses and family, with so much pain and suffering, I made a commitment to contribute to this area," said Dresser, whose expertise in preclinical safety assessment, drug metabolism and chemistry manufacturing controls complements his training in clinical pharmacology. "I feel so fortunate to have a career that allows me to give back to society, and to keep learning so much."
While major breakthroughs are likely still years away, Dresser explains that an improved understanding of the genetics and biology of neurodegenerative disease has allowed new treatment targets to be identified. Denali is the first company to target leucine-rich repeat kinase 2 (LRRK2), a protein known to mutate in subsets of individuals susceptible to Parkinson's disease.
Dresser also sees significant promise in the increased number and sensitivity of biomarkers to better evaluate investigational medicine. "Historically, one had to wait for years for clarity about whether a drug was doing what it seemed to be doing. Now you can discern a drug's potential benefit much earlier."
Dresser continues to be actively involved with the Graduate Division Alumni Association, most recently hosting networking events at Denali, which has become a magnet for UCSF alumni: more employees at the company did their advanced training at UCSF than at any other school.
Dresser is equally passionate about his career successes as a mentor and manager: "There's tremendous responsibility in providing meaningful, thoughtful guidance to younger scientists," he said. "I derive great satisfaction from brainstorming how my team members can be more effective and efficient and happier in their work."
Although an introvert by nature, Dresser has also become a role model as an openly gay scientist. "Even in the Bay Area, I'm not aware of many gay men, lesbians, or transgender people who are in senior management, not to mention key leadership positions in science."
Dresser said that as a graduate student and younger scientist, he feared that being openly gay could limit his career. "I was closeted for much of my career. I focused on my work." He used pronoun neutral terms when referring to his family, and when he and his husband, John-Christopher Thomas, were married at San Francisco City Hall in 2004, he told his boss that he had a dentist appointment.
The turning point came as his career hit mid-stride with increasing accolades for his work, and his husband encouraging him to be openly, proudly, himself: "I do think as a society we've made a lot of progress, but there are still barriers to individuals pursuing careers in technical areas. Some maybe don't have role models to build their confidence. That's why from a personal standpoint it's important for me to be out."
To colleagues, Dresser is nothing short of exemplary. "What always stands out is his scientific integrity and passion for the patient," said Cindy Dunkle, Denali's senior vice president of human resources, and part of the team that recruited Dresser. "He has such zest and energy, and this can-do attitude. People want to go where Mark treads."
---
Dresser will receive his award at the Graduate Division Gala, which takes place during UCSF's Alumni Weekend, April 12-13, 2019, at the Hyatt Regency Hotel in San Francisco. Visit the Alumni Weekend website for more information and online registration.
(story by Janet Wells)