UCSF Mission Bay Conference Center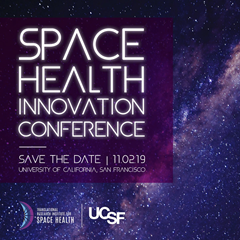 The UCSF/TRISH Space Health Center invites members of the UCSF campus community – including graduate students and postdocs – to come to an exciting upcoming event, the first-ever Space Health Innovation Conference.
This one-day workshop will bring together NASA scientists, astronauts, health tech innovators, engineers, investors, physicians, students, and trainees to learn, collaborate, and ultimately advance a variety of Space Health initiatives.
Organizers are keeping registration fees very low – just $50 for students, postdocs, and other trainees – to make the conference as accessible as possible. 
(The Graduate Division is helping to promote this event, as it may be of interest to graduate students and postdocs.  Please reach out to event organizers with any questions. )