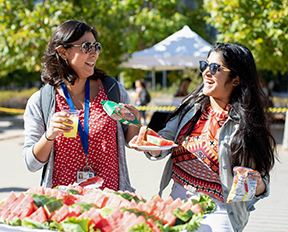 At the Graduate Division's 8th Annual Fall Celebration on September 5, Graduate Dean Elizabeth Watkins and a crew of over 20 staff and student volunteers welcomed close to 800 graduate students, postdocs, faculty, and program staff to Koret Quad for a sunny afternoon of food, fun, music, lawn games, and a free raffle for grad students and postdocs.
Attendees enjoyed a BBQ buffet of hot dogs, burgers, chili, salads, corn on the cob and more, provided by Arguello Catering. For dessert, it was San Francisco's own famed It's It ice cream bars. 
Also on hand were several campus units and student/postdoc-run Registered Campus Organizations sharing information with guests and encouraging them to get involved: Carry the One Radio; The Fog at Bay; Graduate Queer Alliance; SF Hillel; Science and Health Education Project; Science Policy Group; Scientists 4 Diversity; and Student Health and Counseling Services.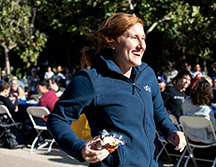 A highlight of the event was the free raffle featuring several great prizes for students and postdocs, including a grand prize of a Dell laptop! Dean Watkins conducted the raffle with help from Executive Assistant Veronica Nepveu and Sean Ganther, president of the Associated Students of the Graduate Division and a DDS-PhD student.
---
Many thanks to our generous raffle donors, and a special thank you to our partners in Campus Life Services, Wellness and Community for helping to secure some of our terrific raffle prizes: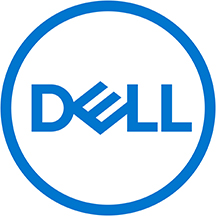 Dell University | Dell is partnered with UCSF to offer serious savings of up to 30% off Dell PCs and Dell-branded electronics and accessories, plus exclusive access to special offers year-round for UCSF students, faculty, staff and alumni. Visit dell.com/dellu/ucsf.
 

Columbia Sportswear Company | Columbia Sportswear's Employee Store offers the latest apparel, footwear, backpacks, sleeping bags and tents at unbeatable prices!  Take advantage of the UCSF invite to access their private store September 6 – 29. The store is stocked with current products from Columbia Sportswear, Mountain Hardwear, SOREL and prAna marked 40-50% below retail.  Learn more and download your invite. For store access, be sure to bring the invite along with proof of affiliation with UCSF (badge, email signature, etc.).
California Academy of Sciences | Did You Know? The California Academy of Sciences leads a global initiative called Hope for Reefs, with the goal to explore, explain, and sustain the world's coral reefs by making fundamental breakthroughs in coral reef biology; developing new conservation solutions and restoration techniques; and sharing what we know through innovative exhibits and educational media programs. Visit Campus Life Services to access discount tickets.
Fine Arts Museums of San Francisco | Comprising the de Young Museum in Golden Gate Park and the Legion of Honor in Lincoln Park, FAMSF is the largest public arts institution in San Francisco and one of the largest art museums in the United States.
Goat Hill Pizza | An SF favorite, providing delicious, reasonably priced sourdough pizzas since 1975. Now with three locations in Potrero Hill, SOMA, and West Portal, Goat Hill continues a 44-year tradition of community, conviviality, fun and of course, great pizza!.
Monterey Bay Aquarium | The Monterey Bay Aquarium can instill a sense of wonder in all ages. The world-renowned aquarium is a great place for the entire family to explore, and discover together the wonders of the ocean world—from playful sea otters to sleek sharks and much more. Live exhibits explore the diverse habitats of one of the world's richest marine regions, and special exhibitions showcase other wonders of our ocean planet. Visit Campus Life Services to access discount tickets.
Pacific Catch Westcoast Fish House | With several locations throughout the Bay Area, Pacific Catch is dedicated to delivering high quality sustainable seafood with a unique perspective. The menu explores styles and ingredients found throughout the Pacific.
The Ramp Restaurant | Originally a bait shop in the 50's, The Ramp, a well-kept locals secret, has developed into a popular destination for dining, drinking and dancing. Get the feel of the authentic San Francisco waterfront, just a short walk from UCSF Mission Bay.
Campus-based raffle donors:
Campus Life Services - Wellness & Community | Striving to make UCSF a great place to work, learn, teach and discover by supporting the wellbeing of faculty, staff, students and trainees through initiatives and programs that contribute to wellness, engagement and community.
Fitness & Recreation | Enriching the human spirit, quality of life, and community at UCSF by providing members with exceptional service, knowledgeable staff, a wide variety of activities, and a clean environment.
Office of Diversity and Outreach | Committed to building a broadly diverse community, nurturing a culture that is welcoming and supportive, and engaging diverse ideas for the provision of culturally competent education, discovery, and patient care.
Student Academic Affairs | Offers a wide range of vital services that help UCSF's talented students and scholars thrive, and that support our faculty in creating the optimal environment for learning and professional development.