Students, faculty, and staff turned out in record numbers for this year's Grad Slam event on March 21.
---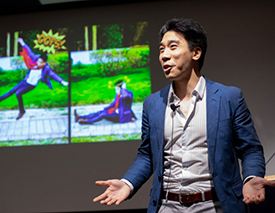 David Wu, an MD/PhD student currently studying in the Biomedical Sciences PhD program, took the grand prize of $4,000 for his engaging talk on developing a blood test to diagnose concussions. Olivia Creasey, a graduate student in the Bioengineering program, took second place, worth $2,000, for her talk on building islet tissue in the lab, which could someday help people with diabetes. Ryan Muir, a graduate student in the Chemistry and Chemical Biology program, won both the third place prize, worth $1,000, and the People's Choice prize ($750) for his talk on combating antibiotic resistance.
Read more about this annual celebration of graduate student research in UCSF News, where you can also watch video from the event.
Update: David also took 2nd place in the UC-System-wide Grad Slam event on May 10! You can still watch all 10 of the UC campus champions' presentations online.
(photo of David Wu by Susan Merrell)