The Graduate Division generated twice the festivity this year as UCSF's newest PhD, master's, and doctor of physical therapy degree recipients were celebrated in two separate ceremonies.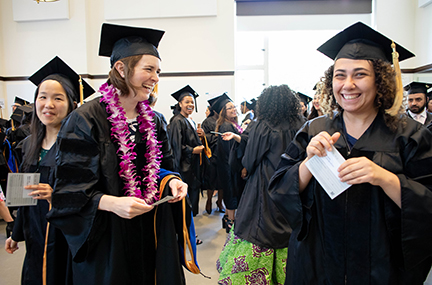 On June 5, over 100 PhD and master's candidates from 19 degree programs were hooded on the stage of San Francisco's historic Herbst Theater. Keith Yamamoto, PhD, UCSF's vice chancellor for science policy and strategy, director of precision medicine, and professor of cellular and molecular pharmacology, gave the commencement address, and Wallace Marshall, PhD, professor of biochemistry and biophysics, was presented with the Outstanding Faculty Mentor Award by Greyson Lewis, president of the Associated Students of the Graduate Division.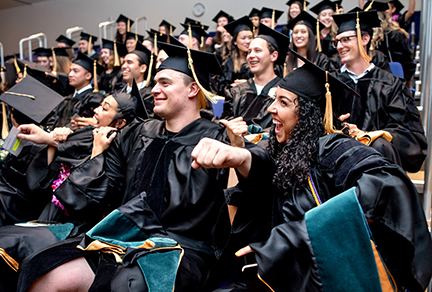 Just a few days later, on June 10, 47 doctor of physical therapy candidates gathered with PT faculty members and family and friends in Robertson Auditorium at the Mission Bay Conference Center for a commencement ceremony dedicated solely to the UCSF/SFSU Doctor of Physical Therapy Program. The commencement address was delivered by Kimberly S. Topp, PT, PhD, professor and chair emeritus of the Department of Physical Therapy and Rehabilitation Science. DPT candidate Vincent Castoro was nominated by his peers to give the student address.
Graduate Dean Elizabeth Watkins, PhD presided over both commencement ceremonies, with a combined total of more than 60 faculty members participating in both events.
Many thanks to the staff and volunteers who made both of these special events run so smoothly, and to the participating faculty and guests. But most of all, hearty congratulations to the Graduate Division's 2019 graduates!
---
Commencement Quotables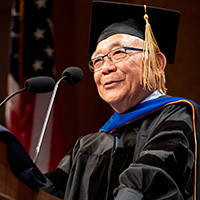 "No matter what your day job is, … there's an opportunity for you to use your UCSF science training to be a trusted agent – to have an outsized influence among those in your various affinity groups (colleagues, family, friends), to drive change simply by speaking up, and to disrupt misinformation echo chambers with evidence-based, fact-driven conversations that can change minds." (Get inspired! Read the whole speech.) 
Keith Yamamoto, PhD
Address to PhD and master's candidates, June 5, 2019
"Invest in yourself, for the benefit of your patients. Commit to a life of learning…Think about your day. Work to understand and mitigate the differences between you and the patients and communities you serve. True inclusion is built on quality social relationships, so get to know your colleagues and your patients. Your social history matters in each relationship, so take risks, get comfortable being vulnerable, and share of yourself."
Kimberly S. Topp, PT, PhD
Address to DPT candidates, June 10, 2019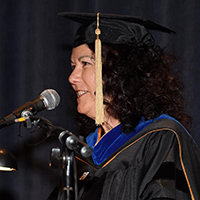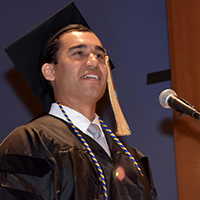 "We've been educating and empowering one another for three years, and without knowing it, we've gotten really good at it. Fortunately for us, these skills are essential to being a successful physical therapist. And soon enough, we'll have the opportunity to share our knowledge and experiences with our future patients. However, this is no longer an opportunity, but rather, it's our responsibility. A responsibility we are prepared for and fortunate to have."
Vincent Castoro, doctor of physical therapy candidate
Student address to DPT candidates, June 10, 2019
"It requires a trusting and thoughtful touch to guide young scientists through uncertainty, towards becoming independent scientists…Wallace's trust in each of us sets the tone for our lab's culture. This trust shows itself all of the time: from honest, constructive feedback during lab meetings; to Wallace's encouragement of our career exploration – be it academic, industrial, or otherwise; to a no-questions-asked policy when someone needs to deal with the complications of life outside of the lab."
Greyson Lewis, PhD student
Presentation of Outstanding Faculty Mentor Award to
Wallace Marshall, PhD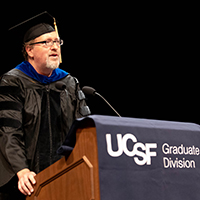 ---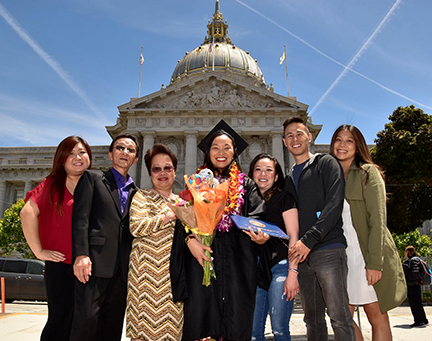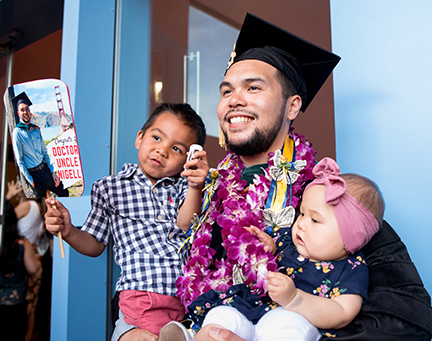 ---
Congratulations to the Class of 2019!