On May 27, the Graduate Division celebrated this year's resilient graduates in its first-ever completely-online commencement ceremony.
Interim Dean Liz Silva introduced the program and reflected on the challenges of the past year, noting, "Graduate school is demanding even in the best of circumstances, but against the backdrop of 2020, the accomplishments of the graduates we present to you today are that much more impressive."
"Short and Sweet" Commencement Address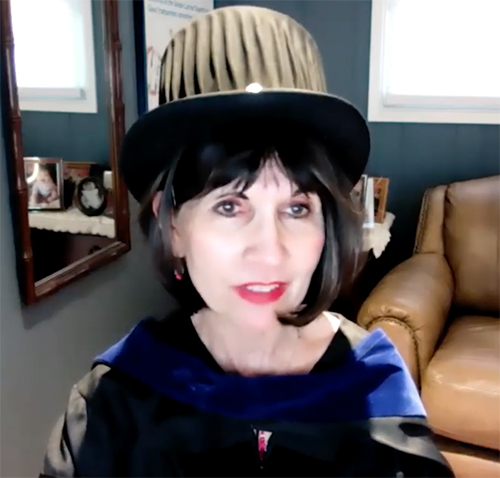 Dr. Kathy Giacomini, professor in the Department of Bioengineering and Therapeutic Sciences and co-director of the UCSF-Stanford Center of Excellence in Regulatory Science and Innovation (CERSI), gave this year's commencement address.
Wearing academic regalia, Dr. Giacomini delivered her "Short and Sweet" speech from her living room. Having inherited a love of poetry from her father, Giacomini centered her remarks around three poems: "Along the Road" by Robert Browning Hamilton, "Ships? Sure, I'll Sail Them" by Maya Angelou, and "What I Can Do" by Mary Oliver. The poetic take-home messages?  The first, from Hamilton, "With compassion and care, learn from the pleasures that you experience, but particularly reflect upon the sorrows." Second, from Angelou, "With determination and strength, face failure, but never learn to spell it." And from Oliver, "Strike that match, and go out and make such a fire!" 
Celebrating Compassionate Mentorship
Kristen Clark, MSN, RN, a student in the Nursing PhD program, presented the Outstanding Faculty Mentor of the Year Award to Associate Professor Annesa Flentje, PhD. In introducing Dr. Flentje, Clark emphasized not only the quality of Flentje's academic and career-related mentorship, but also the kindness she showed to her mentees, especially during the pandemic. "These past 12 months have truly underscored the importance of mentors like Dr. Flentje," said Clark. "Our lab group has experienced loss in the unexpected burdens of COVID-19. There was a constant acknowledgement and space given to all of our struggles. We were acknowledged and encouraged as individuals with families, responsibilities, and lives outside of academic settings. That space and support allowed many of us to persevere and to prioritize our own physical and mental health."

In accepting the Award, Flentje, who heads the Sexual and Gender Minority Health Equity Lab at UCSF, focused on the need for a compassionate approach to all things. "Our challenge during this time is truly to persist – to persist and to do so with compassion for ourselves and those around us," she said. "The must-dos and do-nows and races we will run must all be approached with compassion first. With compassion we will have something to return to, and we will have people to return with."
Flentje added a final note for students who, in spite of their accomplishments, may feel like they don't belong in the sometimes rarified air of academia and research.  "If you feel like you are in the wrong room, like you don't fit with the people who are around you, stick around! They probably need you there to represent your experiences and your point of view."
Celebrating the Graduates
In all, 135 master's and PhD program graduates participated in the virtual ceremony, by providing photos – a touching array of images including adorable babies and pets as well as grads – and heartfelt messages for their families and friends. Participants included not only the cohorts eligible to graduate this year, but also graduates who would have participated in last year's ceremony if it had not been cancelled due to the pandemic.
Assistant Dean D'Anne Duncan and soon-to-retire Chief of Staff Wendy Winkler took on the arduous task of learning how to correctly pronounce 135 names and announced the "roll-call" of graduates.
The ceremony concluded on an uplifting note with an array of congratulatory messages from many of our graduate program directors, including a short juggling act performed by PSPG Program Director Nadav Ahituv.
If you missed the YouTube premiere, you can still watch the ceremony on your own schedule. Creating the virtual commencement ceremony was quite an adventure; nevertheless, the Graduate Division hopes to offer commencement in person again in 2022.
In the meantime, renewed congratulations to all of the graduates and their families!