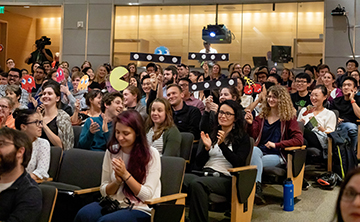 Congratulations! The 4th Annual UCSF Postdoc Slam competition has won the 2019 National Postdoctoral Association and Elsevier "Most Collaborative Event" Award! As part of UCSF's celebrations during the 10th annual National Postdoc Appreciation Week, Postdoc Slam highlighted 10 exceptional postdoc finalists, who presented their complex research to a standing-room only crowd at Mission Bay, and an audience of over 50 at the Parnassus livestream.
This event was a true collaborative effort among individuals and teams from the Office for Postdoctoral Scholars, Graduate Division, Office of Career and Professional Development, Educational Technology Services, Student Academic Affairs, Alumni Relations, Precision Medicine, Library, Office of Communications, Campus Life Services, Departments of Physiology, Pharmaceutical Chemistry, and Neurology, and – of course – the UCSF postdoc competitors! 
The $500 award will be shared by Jeannine Cuevas and Erik Rotman, who conceptualized and executed the popular event. Read more about the award in the press release.