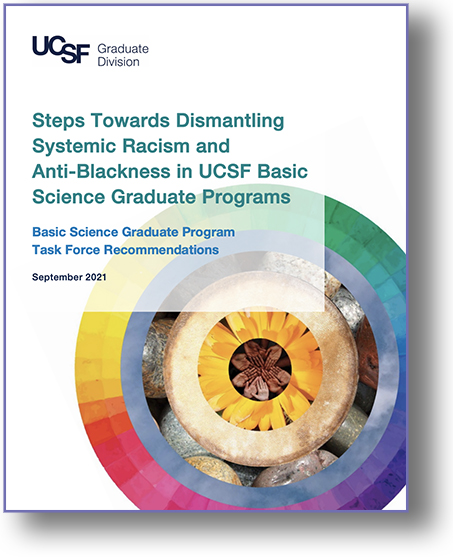 In September 2021, the Graduate Division published Steps Towards Dismantling Systemic Racism and Anti-Blackness in UCSF Basic Science Graduate Programs, presenting the findings and recommendations of the Basic Science Graduate Program Task Force, a team of graduate students, faculty, and staff, led by Dr. D'Anne Duncan, assistant dean for diversity and learner success in the Graduate Division.
---
Black Lives Matter protests peaked in June 2020, shortly after the murder of George Floyd at the hands of police in Minneapolis, with more than a half a million people turning out in over 500 locations across the U.S. The Task Force was formed against this backdrop, after a June 2020 meeting of the Graduate Student-Faculty Diversity Committee. Students were vocal about deficits in the basic science PhD programs, particularly in relation to mentoring and a lack of mechanisms to resolve conflicts in mentor-mentee relationships and faculty accountability, as well as gaps in the understanding of current diversity, equity, and inclusion programs offered to support graduate learners. The students emphasized that these deficits impact all learners, and they are particularly harmful for Black graduate students.
Since its creation last year, the Task Force has worked to develop a set of recommendations to address those deficits that learners see as most critical to their success, health, well-being, and safety.
In the past two years, under Dr. Duncan's leadership, the Graduate Division Dean's Office has significantly increased its JEDI*-related efforts that directly support graduate learners in spite of the challenges that the virtual environment imposed on the campus over the course of the COVID pandemic. Remarkably, three new courses were introduced in this period: GRAD 210 – Diversity, Equity, and Inclusion Academic Leadership; GRAD 202 – Racism in Science; and the mini-courses GRAD 219 – Research on Racism in Science. An additional lecture – on diversity, equity, and inclusion – was appended to the existing Responsible Conduct of Research course (GRAD 214) as well. NIH Diversity Supplement Matchmaking events were also initiated, promoting diversity at the post-bac level. Importantly, "Community Circles" incorporating restorative justice practices were also held for all incoming basic science PhD students.
The robust Task Force Report calls for tangible actions to be taken in two main areas, first, providing infrastructure and resources and, second, making changes in the policies that reinforce systemic racism. The group specifically recommends that the Graduate Division and campus leadership:
Provide funding to support the activities of the Office of Diversity and Learner Success in the Graduate Division Dean's Office
Conduct an annual review to evaluate the effectiveness of DEI efforts in the Graduate Division
Increase the representation of Black faculty members in the basic sciences
Redesign physical spaces on campus with the needs of Black graduate students and students from historically marginalized groups in mind
Hire and retain more Black mental health professionals in Student Health and Counseling Services
Develop and enforce uniform graduate program membership policies as part of an overall effort to make program policies more inclusive
Develop processes for escalating and resolving issues related to mentorship
Integrate feedback from graduate learners in relation to policies that affect them
Standardize the graduate application review policy
Increase outreach and fortify efforts to recruit Black graduate students
Provide and require DEI education and training for basic science faculty members
Increase representation of speakers from historically marginalized groups with an emphasis on Black speakers in each seminar series
Establish and sustain relationships with UCSF social science scholars in the departments of Humanities and Social Sciences and Social and Behavioral Sciences who are conducting research on racism and anti-Black racism in science, medicine, health care, and society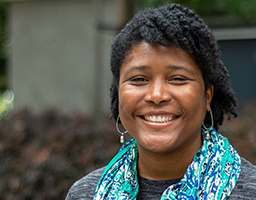 Dr. Duncan said, "This Report is foundational due to the comprehensive approach taken to detail critical steps and measures of accountability that can lead to transformational and sustainable changes that center the graduate learner experience. Work is already underway to implement the Task Force recommendations that we can execute ourselves, and we are advocating for actions to be taken in the areas that are outside of our immediate control, for example, in relation to hiring more Black faculty or personnel in Student Health and Counseling. This year, I look forward to working with Dr. Nicquet Blake, our new graduate dean and vice provost for Student Academic Affairs, who is also strongly committed to integrating JEDI principals in our work in the Graduate Division as well as in the student services under her purview, to realize many more aspects of the Task Force recommendations."
The biggest projects currently underway include the development of a new Bias Response Team, which will help to address incidents of bias that don't rise to the level of disciplinary action, but that still negatively affect the individuals involved and the campus climate as a whole. The Graduate Division, the Office of Diversity and Outreach, the Multicultural Resource Center, and the LGBT Resource Center, and the director of student rights and responsibilities are collaborating to shape this team; to get feedback from students, faculty, and others; and to establish a flow of communications with other campus partners, e.g. the Ombuds, the Sexual Violence Prevention and Response team.
The Graduate Division is also working to strengthen its mentoring workshops for faculty as well as collaborating with the Graduate Council to make changes to graduate program bylaws and membership. Chair of the Council, Dr. Dyche Mullins, professor of cellular molecular pharmacology and HHMI investigator, said, "To improve governance and promote best practices, the Graduate Council recently updated its regulations to require that all graduate programs operate under a set of approved bylaws. The Task Force helped us immensely in this project by drafting a set of recommended bylaws that we hope will be widely adopted."
The Graduate Division encourages all students, faculty, and staff to read the full Task Force Report. All members of the education and training community have a proactive role to play in transforming the campus climate and in sustaining positive change.
Questions about the Report may be directed to Dr. Duncan.
*JEDI = justice, equity, diversity, and inclusion