PLEASE NOTE THAT GRAD SLAM HAS BEEN POSTPONED TO A LATER DATE TBD. In compliance with campus restrictions on large gatherings through April 15, part of efforts to control the spread of COVID-19, Grad Slam will be rescheduled for a later date, featuring the finalists listed below.
Ten UCSF doctoral students will try to "hit it out of the park" in this year's live Grad Slam contest on March 19. The annual competition challenges PhD students to present a compelling presentation of their research in three minutes or less, using language that not only their peers – but also non-specialists – will understand.
---
The 2020 finalists are:
Naomi Beyeler, Global Health Sciences Program
Abrar Choudhury, Biomedical Sciences Program/MSTP
Julia Cluceru, Pharmaceutical Sciences and Pharmacogenomics Program
Alana Horowitz, Biomedical Sciences Program
Rose Larios, Neuroscience Program
Megan Lo, Pharmaceutical Sciences and Pharmacogenomics Program
Jonathan Schor, Neuroscience Program/MSTP
Serena Tamura, Pharmaceutical Sciences and Pharmacogenomics Program
Kaitlyn Tsai, Chemistry and Chemical Biology Program
Anthony Venida, Biomedical Sciences Program
---
Grad Slam LIVE!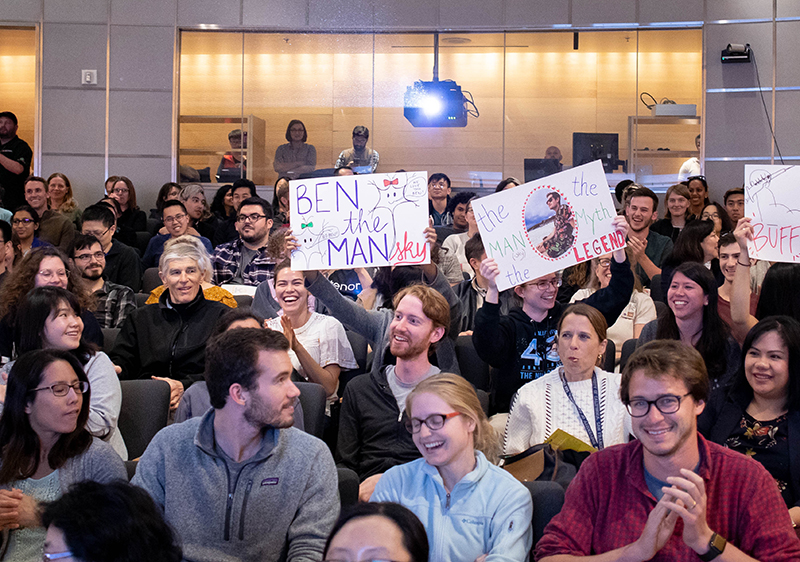 The 10 finalists will present their research in front of the judges and a live audience on Thursday, March 19, at 4 p.m. in Byers Auditorium at UCSF's Mission Bay campus.
The panel of judges includes Erin Allday, health reporter at the San Francisco Chronicle; Won Ha, MA, vice chancellor for communications at UCSF; Catherine Lucey, MD, executive vice dean, vice dean for education, and professor of medicine in the UCSF School of Medicine; Ann Reid, executive director of the National Center for Science Education, and Don Woodson, MEd, director of UCSF's Center for Science Education and Outreach.
A team of eight preliminary judges, which included both scientists and non-scientists from across UCSF, reviewed students' video entries and chose the 10 finalists.
The entire UCSF community and the public are invited to attend Grad Slam Live. The event will conclude with an announcement of the winner, who will be awarded $4,000. The second place prize winner will get $2,000, third prize – $1,000, and the "people's choice" winner, chosen by the audience present, will get $750. The event may also be viewed remotely at the Parnassus campus (room N225), where University Librarian and Assistant Vice Chancellor for Academic Information Management Chris Shaffer will host. There will be a reception at both locations. There is no need to RSVP or buy tickets, but we suggest you show up a little early if you want a seat!
Since 2015, Grad Slam has been held across all ten campuses of the University of California. The winner from each individual campus will go on to compete in the system-wide Grad Slam contest in May.