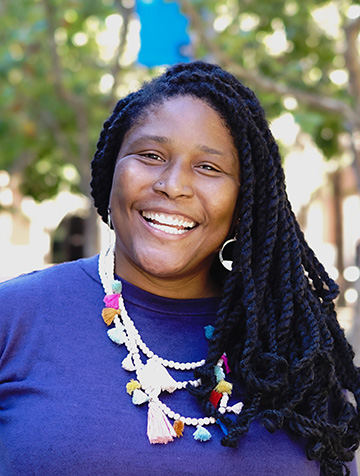 We are excited to announce that D'Anne Duncan, PhD, assistant dean for diversity and learner success in the Graduate Division and adjunct assistant professor in Social and Behavioral Sciences, has been selected by UCSF students to deliver the 2022 Last Lecture on April 6. To attend the event, please register in advance.
Each year since 2012, UCSF students have voted for one faculty member to give a talk on this simple prompt: "If you had but one lecture to give, what would you say?"  This "last lecture" is intended to bring out stories intertwining various dimensions of the chosen faculty member's trajectory, encompassing the professional, personal, spiritual, and cultural experiences that have brought them to where they are today. This year, it is Dr. Duncan's turn to participate in the tradition with her own stories and reflections.
Since joining the Graduation Division in 2017, Dr. Duncan has advocated for and worked closely with students to advance institutional change at UCSF. In 2020-21, she conceived of, designed, and launched the first-ever Justice, Equity, Diversity, and Inclusion (JEDI) Academic Leadership course, aimed at educating and training students on the value and implications of centering diversity, equity, inclusion, and justice in education and research. Dr. Duncan's research at UCSF transforms the student experience – with an emphasis on supporting graduate students from historically marginalized and underrepresented backgrounds – through institutional interventions founded upon personal and professional identity alignment, and principles of mentorship, community building and belonging. Read more.
The Last Lecture is sponsored by the Graduate and Professional Student Association (GPSA), Student Life, and the Alumni Association of UCSF (AAUCSF). This year's event will take place on Wednesday, April 6 at 5:30 p.m. PT. Learn more and register in advance.