­Thanks to the nimble leadership of Assistant Dean for Diversity and Learner Success D'Anne Duncan, together with the formidable energy and dedication of Zachary Smith, diversity and outreach program manager – and owing to the contributions of a village of faculty, postdocs, staff, and UCSF students – the Graduate Division was able to offer its Summer Research Training Program (SRTP) this year despite the ongoing COVID pandemic. Pivoting to an online-only experience necessitated a tricky switch from bench research to computational research; nevertheless, a group of 28 undergraduate students received a meaningful introduction to graduate-level education and to UCSF graduate programs in particular.
---
There is no way to know for certain whether the Graduate Division will be able to offer 2022 SRTP participants an in-person experience, as the pandemic – while waning – is still ongoing. One thing we do know is that our graduate student advisers will again play a key role in creating a meaningful experience for the student participants, whether that's online or face to face.
We checked in with this year's four SRTP graduate student advisers and a few of their mentees to get their take on the experience.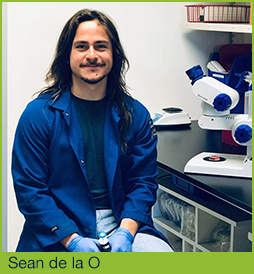 Graduate student adviser Sean de la O, PhD candidate in the Developmental and Stem Cell Biology program at UCSF, remarked on the challenges imposed by the pandemic. "The most difficult thing for me was building relationships with my mentees over Zoom," said de la O. "I felt as though it was much more difficult to build those relationships when you can't meet your cohort in person."
One of the reasons the Graduate Division offers summer research opportunities is to give students the confidence to apply to graduate school in general, and to encourage them to choose UCSF. SRTP participant Amy van Ee, an undergraduate student in bioengineering at Johns Hopkins and one of de la O's mentees, said, "The UCSF SRTP program greatly reaffirmed my decision to apply for graduate school. Speaking with supportive mentors – both graduate students and my PI, attending informative lab meetings and interactive workshops, and being able to work on a project independently all made this an extremely rewarding and enjoyable experience. I hope to continue building on the foundations I built through this program as I continue my career in investigative science."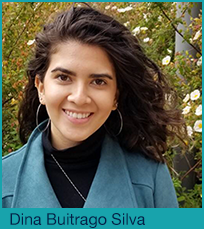 Dina Buitrago Silva, a PhD candidate in the Pharmaceutical Sciences and Pharmacogenomics program who served as adviser to several SRTP students this year, encouraged her students to value their personal experiences as well as to strive for a healthy work-life balance. One of her mentees, Lay Heng Teng, said, "Dina helped me the most by teaching me the importance of being true to myself, and taking care of my mental and physical health as a researcher. For a long time, I thought that my personal background and identities should not have any bearing on the research I was conducting, and conversations surrounding them do not fit in a research setting. But through her and my experience in SRTP, I realized that my identities as a first-generation Cambodian immigrant and college student are valuable assets to me as a researcher. These identities make me more aware of the importance of having both a diverse group of researchers and participants in scientific studies, so that everyone can equally benefit from the advancements that we are making in science. I think many of us, especially now amid the pandemic, have learned the value of taking care of ourselves mentally and physically. I learned that it was okay for me to take a step back from my research responsibilities for the sake of my health and I think I was a more productive researcher by doing that." Lay, a UC LEADS scholar, recently graduated with a BS in biomedical engineering from UC Davis and is now working as a research specialist at Emory University.
Dina reflected on her experience as an adviser. "Going into the first few weeks, I knew I had to build trust and a solid relationship with my group, so I was quite candid and vulnerable about my own work as a grad student and real things that came up in my life throughout the summer. This helped students become more comfortable with me, and thus stay active in our group meeting conversations... I got to be real with them on certain topics like imposter syndrome, for example... To know that you can pass on helpful tips and tricks for their benefit is priceless. I didn't realize how much I knew until I was talking about it. The appreciation from them afterwards was just the icing on the cake," she said.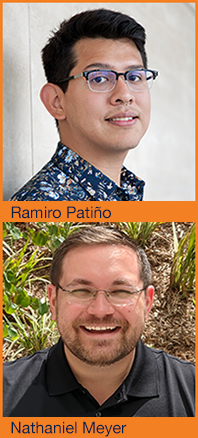 Graduate student adviser Ramiro Patiño, PhD candidate in the Biomedical Sciences program, urges his SRTP students to stay in touch with UCSF and with one another. He says, "I hope that students got a community of fellow summer students, current graduate students, faculty, and staff that they can reach out to anytime when they need support during their careers. Being in a summer program is like becoming part of a chosen family for life!"
Fellow adviser Nathaniel Meyer, PhD candidate in the Developmental and Stem Cell Biology program, echoed that sense of family among the students he mentored. "By far the most rewarding part of working as a student adviser is interacting with and getting to know the students," said Meyer. "The students are incredible and being able to learn with them about science, about their lives, sharing experiences together as a group – the community and comradery we build over the summer is amazing!"
Applications for the 2022 Summer Research Training Program will be accepted November 1 through February 1. Prospective participants are strongly encouraged to apply early. Your SRTP application must be accompanied by a personal statement, two letters of recommendation, and transcripts from your undergraduate institution. 
---
The Graduate Division would especially like to thank stalwart SRTP-partner Dr. Carol Gross and her assistant Jennifer Thompson, and programmer/analyst Tom Goddard, whose Chimera software was integral to the effectiveness of the online program. We also want to thank faculty members Paola Betancur, Tony Capra, Adam Frost, Michael Grabe, Martin Kampmann, Oren Rosenberg, and Kliment Verba, and postdocs Horia Todor and Jordi van Gestel, for conducting workshops and activities for students; Ryan Hernandez, for help in organizing and gathering faculty support; and the many faculty who served as mentors in this challenging year – Drs. David Booth, Bill DeGrado, James Fraser, Natalia Jura, Tanja Kortemme, Hao Li, Aashish Manglik, Tomasz Nowakowski, Brian Shoichet, and Allison Williams; as well as Ann Lazar, who oversaw the UCSF CAN DO scholars who participated in the Program. Finally, we want to recognize the outstanding efforts of our four graduate student advisers, Dina Buitrago Silva (PSPG program), Nathaniel Meyer (DSCB), Ramiro Patiño (BMS), and Sean de la O (DSCB).