At the annual Discovery Fellows Fall Workshop and Reception on November 6, the Graduate Division and University Development and Alumni Relations welcomed the 25 new Discovery Fellows listed below into their role as ambassadors for basic science graduate education.
---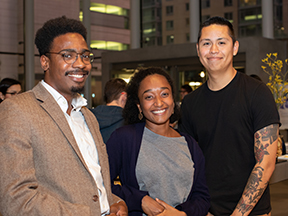 The afternoon featured a welcome and orientation session for the newest Discovery Fellows, an informal lunch, and a communications workshop for all current Fellows. A reception for Fellows and faculty rounded out the event. Discovery Fellows are PhD candidates in the basic sciences who have been selected to serve as ambassadors for UCSF's basic science education programs.
In this year's workshop, Jay Budner and Jessica Jencek of University Development and Alumni Relations offered tips for crafting compelling research stories, and then engaged fellows in drafting their own elevator pitches and sharing with each other and receiving constructive feedback.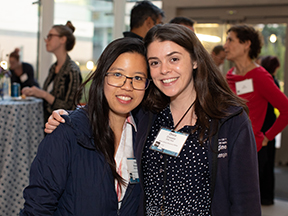 The Discovery Fellows program was established in 2013 with a generous gift of $30 million from Sir Michael Moritz and Harriet Heyman to the UCSF Graduate Division to ensure the future of PhD education programs in the basic sciences. Through additional gifts from Moritz and Heyman as well as over 1,200 other donors, the fund – now at over $100 million – has become the largest endowed program for PhD students in the history of the 10-campus University of California. This endowment provides support for all basic science PhD students at UCSF. The subset of advanced students chosen as Discovery Fellows serve as ambassadors for UCSF's basic sciences programs, with the hope that they will become outspoken advocates for the importance of the innovative research going on at UCSF.
See a video of Moritz and his wife Harriet Heyman sharing the story of what inspired them to establish the Discovery Fellows Program.
Since the program's inception, there have been a total of 204 Discovery Fellows from 10 basic science PhD programs, including 75 current fellows. Program alumni – now numbering over 95 – have gone on to a variety of positions in academia and industry research.
Congratulations to these 25 students who were named Discovery Fellows in fall 2019:
Tara Aitken, Neuroscience
Varun Bhadkamkar, Tetrad
Cassandra Burnett, Biomedical Sciences
Taylor Cavazos, Biological and Medical Informatics
Jiapei Chen, Biomedical Sciences
Alison Comrie, Neuroscience
Adam Cotton, Chemistry and Chemical Biology
Sean de la O, Developmental and Stem Cell Biology
Devan Diwanji, Biomedical Sciences
Ramin Farhad, Oral and Craniofacial Sciences
Clara Herrera, Tetrad
Matthew Jones, Biological and Medical Informatics
Eszter Kish, Neuroscience
Hardik Kothare, Bioengineering
Nicole Koutsodendris, Developmental and Stem Cell Biology
Kristoffer Leon, Biomedical Sciences
Kyle Lopez, Biophysics
Nadia Mohammed Elmassalami Ayad, Bioengineering
Elise Munoz, Tetrad
Neha Prasad, Chemistry and Chemical Biology
Capria Rinaldi, Pharmaceutical Sciences and Pharmacogenomics
Eric Simental, Tetrad
Ivana Vasic, Bioengineering
Sara Vazquez, Tetrad
Chase Webb, Pharmaceutical Sciences and Pharmacogenomics
---