Curci Scholars 2022-2023
History and Purpose
The Shurl and Kay Curci Foundation PhD Scholarship at UCSF was established in 2022 with a generous gift of $1.75M from the Shurl and Kay Curci Foundation, which is dedicated to supporting basic science research in the life sciences. The scholarship will support incoming PhD students in the basic sciences, with a special emphasis on increasing recruitment of women and international students. Six students have been selected in year one of the program, and an additional cohort of six students will be awarded the following year. Each awardee will receive funding for the first two years of their PhD program. The Curci Foundation is piloting this exciting new program with several institutions in addition to UCSF: UC Berkeley, UC San Diego, University of Washington, University of Utah, and University of Colorado Boulder.  Learn more about the Curci Foundation.
Read more: Curci Scholarship Will Boost Graduate Student Diversity (UCSF News, 10-5-22)
2022-2023 Awardees
Meet the inaugural cohort of UCSF's Curci Foundation PhD Scholars!
Amélie Marie Lucie Delcourt
First Year Student, Tetrad PhD program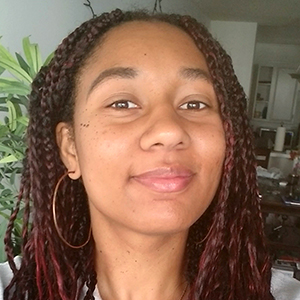 Amélie Marie Lucie Delcourt was born in Brussels, Belgium but grew up in California where she attended and received her bachelor's degree in molecular, cell, and developmental biology at the University of California, Los Angeles. In her undergraduate studies, she worked in the lab of Andrew Goldstein where she was funded by the Maximizing Access to Research Careers (MARC) Award (T34) for two years. Her project in the lab focused on the molecular mechanisms responsible for prostate cancer treatment-resistance and, in consequence, disease progression. After obtaining her bachelor's degree in 2021, Amélie was able to secure an NIH diversity RO1 supplement and stayed in Dr. Goldstein's lab as a research associate where she shifted her focus towards metabolic regulation of the benign prostate. Amélie is currently enrolled as a graduate student in the Tetrad program, where she is additionally funded by the NSF Graduate Research Fellowships Program. She is broadly interested in cellular biology in disease contexts and is aspiring to become more involved in science communication outside the niche field of scientists.
What it means to be a Curci Scholar:
"Receiving the Curci Scholarship is an honor for which I am truly grateful. An important goal of mine is to become an inspiration for other students, especially those of a similar background to mine. When I first sat down to google the research faculty of my schools of interest, I realized not many women – and especially not women of color – are conducting research. Better representation not only provides for more diverse research perspectives, but it also expands society's idea of a research scientist to include individuals from all backgrounds, not just a few. I aspire to create a welcoming environment for all future scientists, and this scholarship brings me one step closer to that goal."
---
Ricardo Espinosa Lima
First Year Student, Developmental and Stem Cell Biology PhD program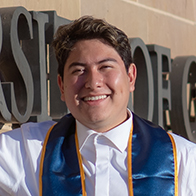 Ricardo Espinosa Lima was born in Mexico City, Mexico. He attended UC Santa Barbara for his undergraduate career and received his bachelor's degree in biology from the College of Creative Studies (CCS). During his first years at UC Santa Barbara, Ricardo worked in Dr. Max Wilson's lab, where he was first introduced to biological engineering and built optogenetic molecular tools to control cellular dynamics in a spatio-temporal manner. Ricardo was awarded the two-year UC systemwide research fellowship, UC LEADS, as an acknowledgment for his research efforts. As part of the UC LEADS summer fellowship, he worked in Dr. Song Li's lab at UCLA. He used polystyrene microparticles and protein-linking chemistry to create a synthetic environment for the SynNotch system to achieve robust gene activation. Inspired by his previous experiences, Ricardo finished his undergraduate research training in Dr. Angela Pitenis's lab, where he utilized hydrogel-based technologies, clonal pancreatic cell lines and tissue-derived organoids to explore cellular responses to microenvironmental stiffening. His goal was to uncover the role of tumor fibrosis in driving cancer cell metastasis and develop new technologies to mimic the stiffness of the extracellular matrix in vitro. At UC San Francisco, Ricardo seeks to integrate his previous experiences in biological engineering to stem cell research. He strives to uncover fundamental stem cell mechanics while advancing the fields of tissue engineering and regenerative medicine. When Ricardo is not in lab, he is seen playing online video games with his friends across California or spending time with his family and cat.
What it means to be a Curci Scholar:
"As I participated in more rigorous fellowship programs and presented at national science conferences, I became aware of the lack of diverse representation in the STEM field. This prompted me to act and participate as a peer mentor in different fellowships that help other underrepresented students get involved in research and thus increase participation in STEM. As a first-generation student, it is also an honor to know about fellowships like the Curci Foundation, whose primary goal is to increase representation of international students in the U.S. I hope that this award also inspires other students like me, who are curious and passionate about science while being active in supporting diversity efforts."
---
Yang-Sun Hwang
First Year Student, Neuroscience PhD program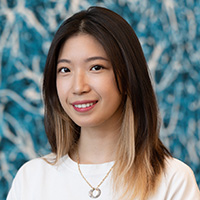 Yang-Sun Hwang grew up in a rural village in South Korea, where she was introduced to the wonder of vibrant nature. She completed a bachelor's degree in microbiology and molecular biology at Chungnam National University in Daejeon, South Korea. During her undergraduate study, she was greatly intrigued by the question, "How do collections of cells engender unique individuals?," which drew her to start a master's thesis in systems neuroscience at Korea Advanced Institute of Science and Technology. She uncovered the role of neuropeptide somatostatin in visual processing at Dr. Seung-Hee Lee's lab, conducting visiting research at the laboratories of Drs. Carl Petersen and Graham Knott at École Polytechnique Fédérale de Lausanne, Switzerland. Before joining the neuroscience program at UC San Francisco, Yang-Sun joined the post-baccalaureate program at Max Planck Florida Institute for Neuroscience, where she investigated the neural mechanism of conditioned non-homeostatic overconsumption in Dr. Sarah Stern's group. Starting her PhD program, she has a keen interest in how environmental factors shape neural circuits, which will eventually cast light on attenuating neuropsychiatric or neurodegenerative disorders.
What it means to be a Curci Scholar:
"Supervised by woman scientists during my undergraduate, post-baccalaureate, and graduate programs, I have noticed a critical demand for international women professionals who can inspire the next generation. I have participated in a number of outreach activities to make science accessible to Korean girls' high schools and Florida's Girl Scouts. Hence, it is a great honor to be one of the Curci Scholars, which will enable me to expand my passion for educational equity during my early career. Thanks to the support of the Curci Foundation, I will spearhead the efforts both for the advancement of neuroscience research and an inclusive educational environment."
---
Gabriella (Gabi) Maldonado
First Year Student, Tetrad PhD program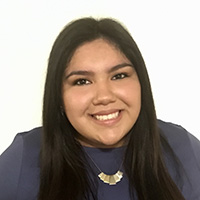 Gabriella Maldonado was born and raised in Fort Worth, Texas. She attended Northeastern University in Boston, Massachusetts, where she majored in biochemistry and minored in political science. Gabriella is passionate about empowering young women, especially in STEM. She served as a college mentor for a middle school STEAM program, and she became the chapter director for Strong Women, Strong Girls, a program focused on mentoring elementary-aged girls in Boston Public Schools. Gabriella's interest in research began when she started the co-op program at Northeastern and had the opportunity to work as a researcher at Neon Therapeutics, an immuno-oncology company specializing in personalized neoantigen vaccines and T-cell therapeutics. There, she developed her skills as a scientist, as well as her interest not only in research, but also immunology and translational medicine. She furthered this interest by joining Jounce Therapeutics on their Antibody Discovery and Protein Engineering Team. She then joined Dr. Kapil Ramachandran's lab at Harvard University and later Columbia University Medical Center. The lab focuses on further understanding a newly discovered mechanism of protein degradation and neuronal signaling in neurons. Gabriella's project focused on understanding the mechanism through a neuroimmunological lens. All of her experiences have molded Gabriella's interest in foundational, discovery-driven science and its therapeutic outputs, specifically in neuroimmunology and cancer immunology.
What it means to be a Curci Scholar:
"At the start of my application process for graduate school, I had to come to terms with the fact that in the last five years I had spent in research, I had never come into contact with a single person who shared my background, let alone someone in a leadership role. I took this realization as further motivation during the application process, because I aim to be the mentor I have so often needed during my career. Becoming a Curci Scholar provides me the opportunity to further reach that goal. I am both honored and humbled to be a Curci Scholar, and in my time, I hope to hone and develop the skills needed to cultivate a welcoming and inclusive space for future scientists."
---
Tuan Thinh (Caleb) Tong
First Year Student, Bioengineering PhD program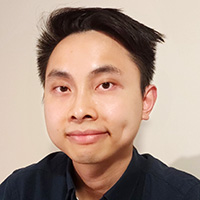 Tuan Thinh (Caleb) Tong was born and raised in Sa Dec, Southern Vietnam. Tong obtained his bachelor degree in chemical engineering with a specialization in biomedical engineering from the University of Calgary, Alberta, Canada. In his undergraduate studies, Tong got involved with various research activities in both academic and industrial labs. During his internship at STEMCELL Technologies (Vancouver, Canada), he worked with Dr. Michael Hiatt to develop products that support pluripotent stem cell (PSC) proliferation in 3D environments. Back at the University of Calgary, under the guidance of Dr. Elena Di Martino, Tong built a classification algorithm to assess the effects of various biomarkers on the rupture risk of aortic aneurysm. These markers range from non-invasive measurement of MRI blood wall shear stress to ex-vivo histological analysis of aortic tissue's extracellular matrix alteration. After graduation, Tong joined BlueRock Therapeutics (Toronto, Canada) as a research associate in the Process Development team. His work contributed to developing reliable human PSC-derived cell therapy that can treat many intractable diseases. His current research interest lies in combining engineering principles and computational tools to characterize cell-cell and cell-matrix interactions with applications towards cell and gene therapies.
What it means to be a Curci Scholar:
"Growing up while seeing my parents struggle every day with their chronic diseases has motivated me to get involved with biomedical research. Knowing that my work contributes to helping someone out there feel better in their everyday lives is definitely a rewarding journey. I feel grateful for being a Curci Scholar as this opportunity will not only enable me to work in cutting-edge projects but also get involved in such diverse communities at world-class research institutes!"
---
Xinlan Wen
First Year Student, Neuroscience PhD program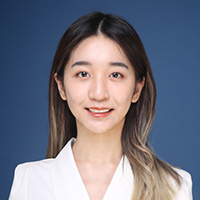 Xinlan Wen was born and raised in Chengdu, China. With a strong will to move forward the treatment of incurable diseases and improve the well-being of patients, Xinlan received her bachelor's degree in biomedical science at Shanghai Jiao Tong University. During college, she developed an interest in neuroscience and joined Professor Tian-Le Xu's lab to study the sensory innervation of the pia mater. By illustrating the role of trigeminal nerves in monitoring and regulating cerebral blood flow, they came up with a novel approach to treating ischemic stroke by targeting the peripheral nervous system. Inspired by her undergraduate research, Xinlan is broadly interested in the reciprocal interactions between the nervous system and other body parts, and the less-studied interoception – how the body feels internal stimulations and maintains homeostasis.  Xinlan felt so lucky to be admitted by UCSF right after her graduation. It would be her lifelong goal to uncover the unknown of the brain.
What it means to be a Curci Scholar:
"I was very impressed when hearing about this scholarship specifically funding females and international students. It is such an honor and inspiration for me, encouraging me to chase after my ultimate goal in scientific research. I firmly believe that diversity and collaboration promote new ideas and creativity in scientific communities – it was also one of the reasons why I gave up my postgraduate recommendation for domestic universities in China and applied for UCSF. I once discussed with friends why there seemed to be more female students than males in most labs but much fewer female PIs and professors in life sciences. Women can do well in science. I wish to stay in academia and encourage more young girls like me to follow their passion for science and feel this supportive environment."