Byers Auditorium - Genentech Hall + Live Stream via YouTube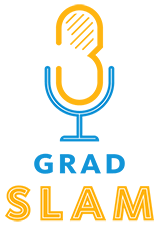 Grad Slam is back! We are planning a lively event for Tuesday, April 4, 2023, 4-6 p.m. PST. Ten PhD student finalists will present their research in three minutes or less, in language accessible to a general audience. It's a celebration not only of the finalists and contest winner, but also of graduate research at UCSF and of scientific inquiry.
Grad Slam is a featured event in UCSF's celebration of Graduate Student Appreciation Week.
Cash prizes of $4,000, $2,000, and $1,000 will be awarded to the 1st, 2nd, and 3rd prize winners chosen by the panel of judges. And the audience will choose the "People's Choice" winner, who will receive $750.
Join us in person at Byers Auditorium, Genentech Hall at Mission Bay, or tune into the live stream on YouTube. Either way, you can vote for the "People's Choice" audience favorite.
In-person attendees:
Please complete either the UCSF Digital Screener or the Vendor/Campus Guest Health Screener and follow the screener requirements before arriving on campus.
Members of the UCSF community, please bring your UCSF ID to scan in at the check-in table.
Masks are strongly recommended indoors.
Doors open at 3:45; please be prompt to ensure you get a seat!
OR:
Watch the live stream on April 4
Questions? Please contact Erik Rotman.
---
UCSF is committed to providing accessible and inclusive programming to all participants. If you require a reasonable accommodation for this event, please contact Erik Rotman by March 24. The live stream will be live-captioned.