Watch Grad Slam 2023
This year's Grad Slam event has come and gone, but you can experience the excitement in the on-demand recording. Congratulations to the prize winners and finalists for a fantastic job!!
---
UCSF Grad Slam 2023
Tuesday, April 4, 2023
4 p.m. PDT
#GradSlam, #UCSFGradSlam
Part of UCSF's National Graduate Student Appreciation Week.
View the Grad Slam event program.
Read the campus news story: Learn Without a Brain Research Wins 2023 UCSF Grad Slam
About Grad Slam
UCSF's popular annual Grad Slam competition returned on April 4 as a featured event during National Graduate Student Appreciation Week.
The ten PhD student finalists each presented their research in three minutes or less, in language accessible to a general audience. It's a celebration not only of the finalists and contest winner, but also of graduate research at UCSF and of scientific inquiry.
Congratulations to the Prize Winners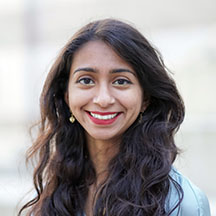 First Prize & People's Choice Award
Deepa Rajan
Tetrad Program
Wallace Marshall, PhD, and Adam Frost, MD, PhD, faculty mentors
Learning Without a Brain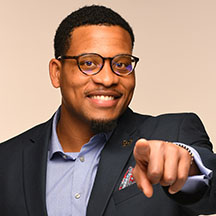 Second Prize
Jaysón Davidson
Pharmaceutical Sciences and Pharmacogenomics Program
Atul Butte, MD, PhD, faculty mentor
Improving Health Equity Bit by Bit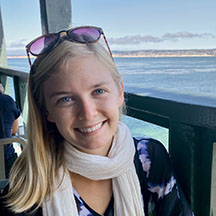 Third Prize
Olivia Teter
Bioengineering Program
Martin Kampmann, PhD, faculty mentor
Nipping Neurodevelopmental Disorders in the Bud
Finalists
(in order of appearance)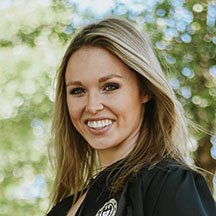 Sophia Guldberg
Biomedical Sciences Program
Matthew Spitzer, PhD, faculty mentor
Cancer Can't Breathe (or Grow) With no Aire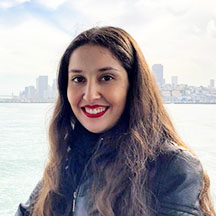 Evelyn Hernandez
Tetrad Program
Roshanak Irannejad, PhD, faculty mentor
Sending the Right Signal – How Cells Talk to and Interpret Each Other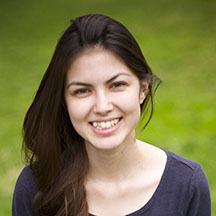 Victoria Sayo Turner
Neuroscience Program
Mazen Kheirbek, PhD, faculty mentor
Be Bold, Little Mouse: Finding Courage in the Brain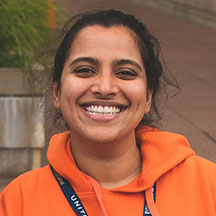 Mashel Fatema Saifuddin
Tetrad Program
Noelle L'Etoile, PhD, faculty mentor
Memoirs of a Worm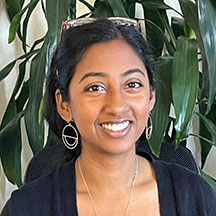 Saumya Bollam
Biomedical Sciences Program
Allan Balmain, PhD, faculty mentor
An Extra Nudge in the Direction of Cancer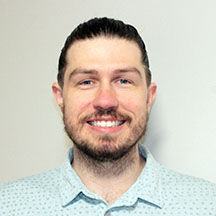 Benjamin Wheeler
Biomedical Sciences Program
Mark Ansel, PhD, faculty mentor
Malat1 is a Spongy RNA That Helps the Immune System Remember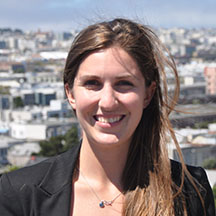 Canice Christian
Global Health Sciences Program
Gabriel Chamie, MD, faculty mentor
We Have the Power to Stop HIV
---
Grad Slam challenges PhD students to present a compelling presentation of their dissertation research in three minutes or less, using language that not only their peers but also non-specialists will understand. The intention of Grad Slam is not to dumb-down or trivialize research; rather, it is meant to incentivize students to clarify their ideas and to help others appreciate and understand their work. Grad Slam contests are now held at all ten UC campuses, and a UC-wide event – featuring the top Grad Slam winners from each campus – is held annually each May. 
Cash prizes of $4,000, $2,000, and $1,000 were awarded to the 1st, 2nd, and 3rd prize winners chosen by the judges. And the live and remote audiences will chose the "People's Choice" winner, who received $750. The 1st prize winner will go on to compete in the systemwide Grad Slam contest on May 5, 2023.
Grad Slam Final Judges
Abby Buchwalter, PhD is an assistant professor in UCSF's Cardiovascular Research Institute.
Dan Lowenstein, MD is the Robert B. and Ellinor Aird Professor of Neurology at UCSF, renowned for his clinical and research work in epilepsy. Dr. Lowenstein also served as Executive Vice Chancellor and Provost from 2015 to 2022.
Florie Mar, PhD a 2015 graduate of the Biomedical Sciences PhD program, is global medical science director in medical affairs at Genentech, and founder and president of Youreka Science.
Elise Marsan, PhD is a postdoctoral researcher in cellular and molecular neurobiology, founder of the Improv at UCSF group, and first prize winner in the 2022 UCSF Postdoc Slam.
Carla Washington, PhD, a 1995 PhD alum in pharmaceutical chemistry, is a clinical consultant and president of the UCSF Graduate Division Alumni Association.
---
UCSF is committed to providing accessible and inclusive programming to all participants. The Grad Slam live stream will be live-captioned.